Dashcams with GPS receiver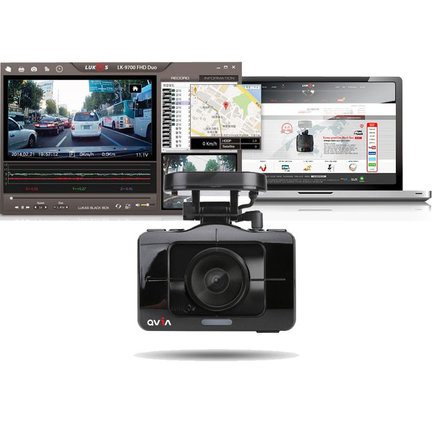 GPS dashcams are dashcams with a GPS receiver. The GPS receiver collects the current coördinates of the dashcam trough a combination of satellites. Dashcams with GPS are able to show the current speed in the video, which can be crucial in providing video proof. Also, videos from GPS dashcams can later be watched together with the current location and route in Google Maps. Most dashcam brands have a dedicated GPS viewer for Windows and Mac. There are also universal programs available, of which Dashcamviewer is currently the most stable and reliable.
Built-in, external or optional
Most dashcams have a built-in GPS receiver, usually fitted in the mount for the best reception. Other dashcams have an external or optional GPS receiver. An external GPS receiver is usually fitted on the windscreen with a 3M adhesive sticker. Some external GPS receivers have the benefit of being faster and more accurate, although most built-in GPS receivers in recent dashcams prove to be very reliable.
Read more
Close
€ 69,-

- 1944p 30fps
- Wifi built-in
- Clean design
- 64gb support

Compare

€ 79,-

- FullHD 1080p
- 460mAh batterij
- 2.0" LCD
- 140˚ viewing angle

Compare

-28% Sale

€109,- € 79,-

- 1080p 30fps
- Wifi and GPS built-in
- 'Waving' SOS recording
- 180mAh battery

Compare

€ 79,-

- 1440p 30fps (4.0MP)
- Optional GPS and CPL
- 2.0" LCD screen
- Latest V2 model

Compare

€ 89,-

- 1080p 60fps
- Optional GPS and CPL
- 2.0" LCD screen
- Latest V2 model

Compare

€ 89,-

- 1080p 30fps
- 3.0" OLED touch
- GPS built-in
- 170˚ lens

Compare

-18% Sale

€109,- € 89,-

- 4K (2880p) 24fps
- Wifi and GPS built-in
- 2.4" LCD screen
- Best 2019 model

Compare

€ 97,99

- 1080p + 720p
- GPS optional
- 5.5" IPS Touchscreen
- Mirror dashcam

Compare

€ 99,-

- Sony Starvis
- Wifi and GPS built-in
- Autom. parking mode
- 2CH option

Compare

€ 109,-

- FullHD 30fps
- GPS built-in
- 2.7" LCD screen
- 136˚ lens

Compare

€ 109,-

- 1660p Quad HD
- GPS built-in
- 2.0" LCD screen
- 2019 V3 version

Compare

€ 109,-

- 1440p 30fps (5.0MP)
- Optional GPS and CPL
- 2.0" LCD screen
- 130˚ 7G lens

Compare

Order before 23.45h for same day shipping
Free shipping to most EU countries (€75+)
60 days 100% money back guarantee

€ 109,-

- Sony STARVIS IMX291
- GPS built-in
- 1.5" LCD screen
- Optional CPL filter

Compare

€ 119,-

- 1080p 30fps
- Wifi and GPS built-in
- 2.7" LCD screen
- ADAS

Compare

€ 119,-

- 4K (2880p) + VGA
- Wifi and GPS built-in
- 2.4" LCD screen
- 128gb support

Compare

€ 129,-

- FullHD 30fps
- GPS and Wifi
- 2.7" LCD screen
- 136˚ lens

Compare

-13% Sale

€149,- € 129,-

- True 4K 3840p
- 170˚ Wide view lens
- Wifi and GPS built-in
- Autom. parking mode

Compare

€ 129,-

- 4K (2880p) + 1080p
- 3.0" touch screen
- Wifi and GPS built-in
- 128gb support

Compare

€ 129,-

- 1080p + 720p
- IR interior camera
- 2.4" LCD screen
- 128gb support

Compare

€ 139,-

- Sony STARVIS
- Dual-Band Wifi + GPS
- Autom. parking mode
- 2019 version

Compare

€ 139,-

- SONY Starvis IMX307
- Wifi, GPS and ADAS
- Optional CPL
- 16gb Micro SD

Compare

€ 139,-

- 4K (2196p) + 1080p
- 3.0" OLED touch screen
- Wifi and GPS built-in
- 128gb support

Compare

€ 139,-

- 1080p 30fps
- GPS built-in
- 2.7" Touch screen
- ADAS

Compare

€ 149,-

- Sony Starvis IMX291
- GPS built-in
- Autom. parking mode
- Optional CPL filter

Compare