Dashcams for Motorcycles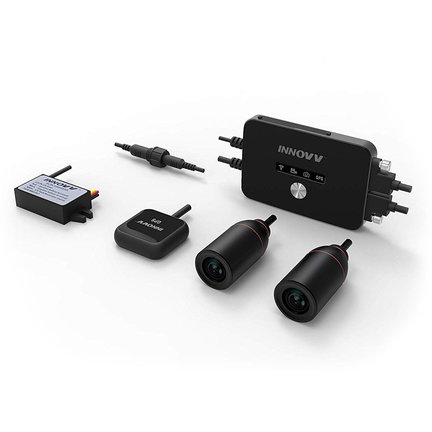 Motorcycle dashcams are dashcams specifically designed to use on a motorcycle, scooter or other type of bike. Motorcyclists are vulnerable participants in traffic, which is why it's a good idea to use a dashcam to keep an extra eye on the road in case something goes wrong. Also, a lot of motorcyclists report being the victim of aggressive car drivers. Using a dashcam can help providing critical proof to the police or insurance in such cases.
Motorcycle dashcams usually consist of one or two separate cameras that are connected to a main unit. The cameras are water and dust proof and made from durable materials to withstand the extreme circumstances on motorcycles. Some motorcycle dashcams also have a waterproof unit, like Innovv's motorcycle dashcams.
Read more
Close
-20% Sale

€99,- € 79,-

- 1080p + 720p
- Parking mode
- IP67 waterproof
- 3.0" LCD screen

Compare

€ 99,-

- 2x 720p 30fps
- 120˚ lens
- IP68 waterproof
- 32gb support

Compare

€ 119,-

- Sony IMX323 + 720p
- Wifi built-in
- 140˚ + 120˚ lenses
- 128gb support

Compare

-17% Sale

€179,- € 149,-

- 1080p + 720p
- 140˚ lens
- IP68 waterproof
- 128gb support

Compare

€ 179,-

- Sony Starvis + 720p
- Wifi and 3.0" LCD
- 140˚ + 140˚ lens
- 128gb support

Compare

€ 199,-

- 2x Sony 1080p
- Wifi and 3.0" LCD
- 170˚ + 170˚ lens
- GPS optional

Compare

€ 199,-

- 2x SONY IMX323
- Optional GPS and case
- IP68 waterproof
- 128gb support

Compare

€ 219,-

- 2x SONY IMX323
- Optional casing
- IP68 waterproof
- Wifi

Compare

€ 229,-

- SONY Exmor R
- Wifi
- IP67 waterproof
- Helmet dashcam

Compare

-23% Sale

€299,- € 229,-

- SONY Exmor R
- Wifi
- IP67 waterproof
- 128gb support

Compare

-17% Sale

€299,- € 249,-

- 2x SONY IMX323
- Wifi built-in
- Fully waterproof
- 128gb support

Compare

-18% Sale

€399,- € 329,-

- 2x SONY Exmor R
- Wifi and GPS
- IP67 waterproof
- Autom. parking mode

Compare

Order before 23.45h for same day shipping
Free shipping to most EU countries (€75+)
60 days 100% money back guarantee