Rearview Mirror dashcams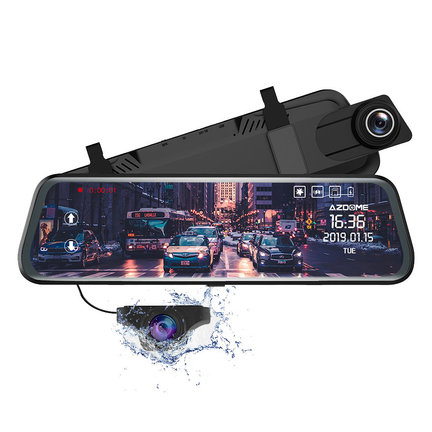 Rearview mirror dashcams are the ideal invisible dashcam for any vehicle. The smart combination of a rear view mirror and dashcam in one make this type of dashcam almost invisible from the outside. Rearview mirror dashcams are therefore ideal to guard your car using the parking mode. Rear view mirror dashcams normally have an LCD screen fitted behing the glass on which menu can be accessed and the recording can be seen. A mirror dashcam is fitted over the existing rear view mirror and secured at the back with two rubber straps.
Fully digital mirror
The latest rear view mirror dashcams are fully digital mirrors like the AZDome PG16S and Anytek T12+. A fully digital rear view mirror dashcam has a big LCD screen the size of the complete mirror (almost 10 inch). The rear camera of this dashcam is shown in full on the LCD screen, increasing the visibility to the rear up to 300% because no interior is blocking the view. This makes for a totally new and safer driving experience. 
Read more
Close