DDpai X5 Pro 4K 2CH Wifi GPS 32gb dashcam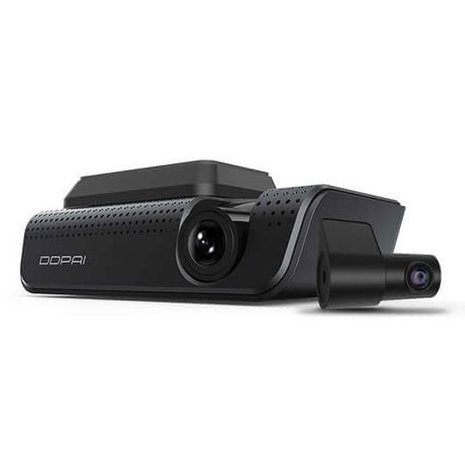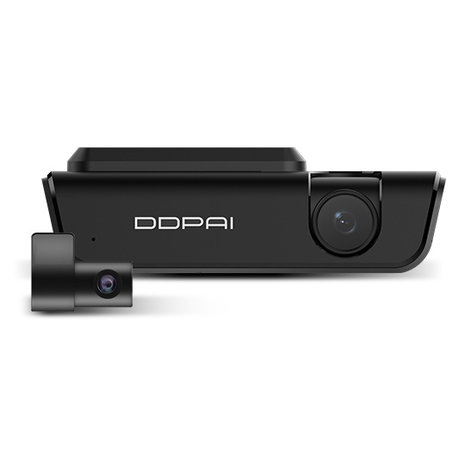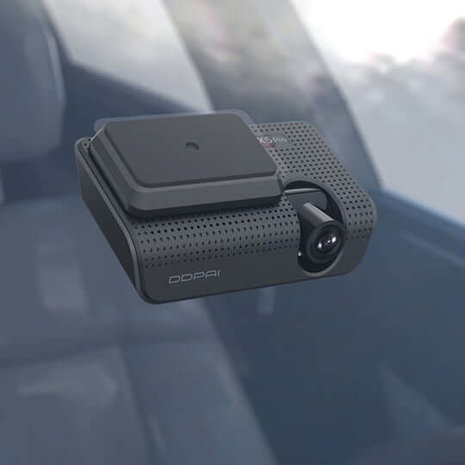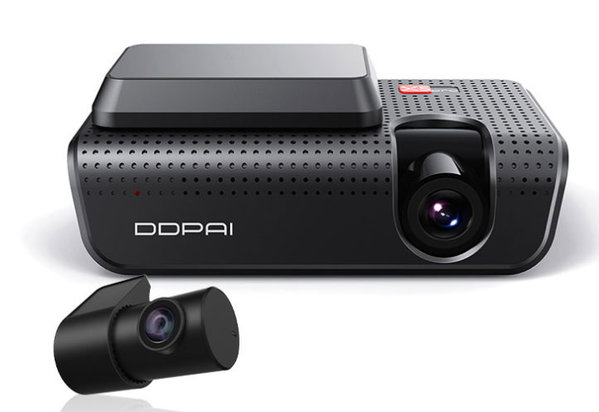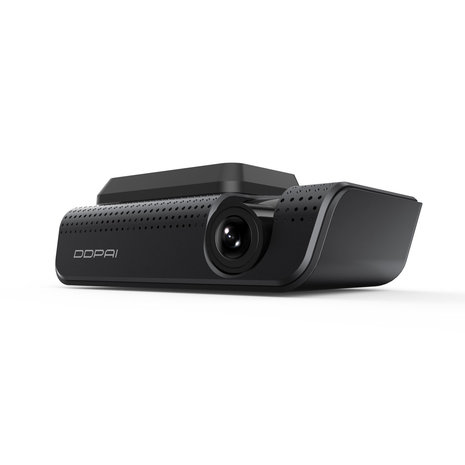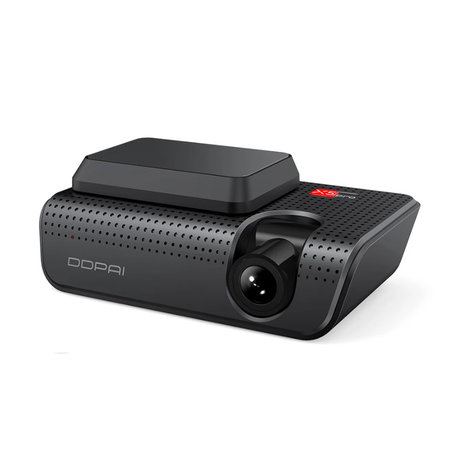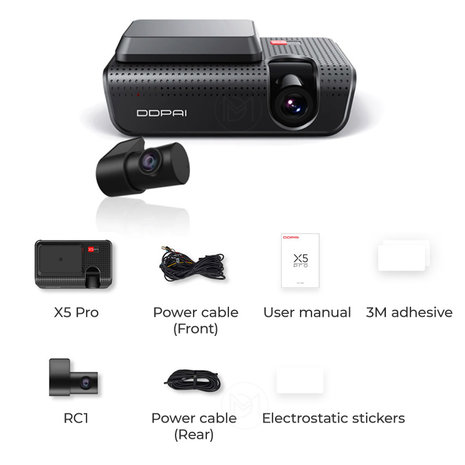 Product description
This new DDpai X5 Pro 2CH Dual is DDpai's new 2CH (2 Channel) flagship model with an Ultra 4K resolution camera on the front and 1080p on the back. This great combination captures virtually everything around the car in stunning quality. In addition to the image quality, the DDpai X5 Pro is also packed with features such as built-in Wifi, GPS and an...
This new DDpai X5 Pro 2CH Dual is DDpai's new 2CH (2 Channel) flagship model with an Ultra 4K resolution camera on the front and 1080p on the back. This great combination captures virtually everything around the car in stunning quality. In addition to the image quality, the DDpai X5 Pro is also packed with features such as built-in Wifi, GPS and an automatic parking mode.
Note: The DDpai X5 Pro only comes with a Continuous power supply and not a cigarette power supply. So it should always be connected at the car's fuse box or to a Cellink battery pack.
Ultra 4K + 1080p 30fps recording
The DDpai X5Pro 2CH Dual records razor-sharp images from both the front and rear of the car. The front camera is equipped with a high-quality 8.0MP Sony image sensor and the rear with a FullHD camera. The DDpai X5 Pro is also capable of high-speed recording up to 90fps. This allows images to be played back later in super slow motion.
Night vision 
By using the aforementioned 5.0MP image sensor combined with the advanced Hisilicon chip and F1.8 lens, the DDpai X5 Pro 2CH Dual is able to capture above-average images in the dark. Persons and license plates are recognizable in the image due to this night vision function. 
32gb eMMC memory
This dashcam is equipped with an internal eMMC memory of 32gb. In addition, the memory can be expanded with Micro SD cards up to 128gb. This is good for a total of about 10 hours of 4K + FullHD recordings.
Digital image stabilization
he digital image stabilization in this X5 Pro 2CH Dual ensures that annoying vibrations are filtered out of the image. The images are therefore very smooth and sharp.
Built-in GPS
The DDpai X5 Pro 2CH Dual has built-in GPS, which stores the locations of the places filmed and displays the current speed at the bottom of the screen. With DDpai's special software, the driven routes can also be viewed on the PC.
DDpai Wifi
This DDpai X5 Pro 2CH Dual is equipped with Wifi and can therefore be used with the DDpai app. The user-friendly app is convenient to operate and can be used to view live or saved images and to change settings. Any firmware updates can also be conveniently performed through the App.
Automatic Time Lapse parking mode
The DDpai X5 Pro 2CH Dual has a convenient automatic parking mode that can be used to secure the car when it is parked. The parking mode automatically turns on when the vehicle's ignition is turned off and vice versa. Parking mode works with Time Lapse, which means that a picture is taken every second that can later be played back as accelerated video. The advantage of parking mode with Time Lapse is that the recordings consume much less data and power than normal recordings. Moreover, people and license plates are still recognizable in the image.
Super capacitor battery
he DDpai X5 Pro is equipped with a super capacitor battery. This battery ensures that the camera can properly shut itself off after the power is lost. Super capacitor batteries are specifically designed for use in dashcams because they are more durable than regular Polymer Li-ion batteries and are also more resistant to high and low temperatures.
WDR
The DDpai X5 Pro 2CH Dual is equipped with WDR (Wide Dynamic Range) to improve image quality. Especially in conditions with very high or very low light, WDR ensures that image quality is still good. 
140˚ + 125˚ wideview lens
This X5 Pro 2CH Dual has a wide-angle lens of 140 degrees at the front and 120 degrees at the rear. The front camera has a 1.8 Aperture lens with 6 layers of glass that captures a lot of light, even in dark conditions. The rear camera has a 2.2 Aperture lens with 4 glass layers.
Auto start
The DDpai X5 Pro 2CH Dual dashcam automatically starts filming when the car is started and stops filming when the car is turned off. So you don't have to look at it when it's hanging in the car. 
G-sensor
With its built-in G-sensor, the dashcam notices when you've been in an accident. Upon impact, images are automatically stored securely so they are no longer lost. They can no longer be overwritten or deleted via the dashcam.
Low Voltage cut-off protection
The DDpai Mini X5 Pro 2CH Dual, in conjunction with the DDpai X5 Pro continuous power supply, has the option to set a voltage at which the dashcam shuts down when the car battery falls below this voltage. The voltage can be set to 12.4V, 12.0V and 11.8V.
Built-in microphone
The DDpai X5 Pro 2CH Dual has a built-in microphone so that sound is also recorded. The microphone can also be turned off if desired.
Date and time recording
The current time and date are always displayed on screen so that the time at which the relevant recordings were made can be shown later.
Show more
Show less
Product specifications
EAN

6934915202898

The video quality of a dashcam is (partly) determined by the resolution and frames per second it records in. Most dashcams record from FullHD (1080p) up to 4K (3840p) with 30 or 60 frames per second. Most dashcams give you the option to set a lower resolution to save data on the SD card.

Video quality

4K + FullHD 30fps

The quality of videos during the night or in low light conditions. It is determined mostly by the image sensor being used, like Sony Starvis. Some dashcams also have infrared LEDs fitted, but they are mostly used for interior cameras on taxi dashcams.

Night vision

Excellent

Wifi gives you the option to view and download videos trough your smartphone or tablet without having to remove the SD card or dashcam from your car. A wifi dashcam will broadcast a wifi signal with which you can connect within a range of about 5 to 10 meters.

Wifi

A dashcam with GPS receiver records the current speed and location. The speed will usually been shown in every video and the location and driven route can be viewed on the App or the PC software of the specific brand.

GPS

Built-in

Regular dashcams are fitted on the windshield using either a suction or an adhesive mount. Suction mounts are usually easier to remove but less durable, whereas adhesive mounts are more sturdy and durable but harder to remove. Mirror dashcams will be fitted on the existing rear view mirror.

Mount type

Adhesive

An LCD screen gives you the option to see live and recorded videos on the dashcam and to access the menu more easily. A downside is that dashcams with and LCD screen are usually a little bigger and less discrete.

LCD screen

Tells if the dashcam is fitted with a touch screen LCD or if it's operated using normal buttons.

Touch screen

A dashcam in Motion detection parking mode is on stand-by during parking and starts a short recording once a visual motion or impact is detected. Motion detection parking mode is therefore ideal to protect your car in a quiet environment like a garage.

Parking mode (Motion detection)

A dashcam in Time lapse parking mode is recording continuously in (usually) 1 or 2 frames per second. This type of recording is more data and energy efficient and is therefore more suited for busy environments like a street.

Parking mode (Time lapse)

The parking mode on a dashcam can be either: 1. Turned on automatically after turning off the car's ignition. 2. Turned on automatically after the car has been stationary for a few minutes. 3: Turned on manually after parking. In all cases you will need a hardwire cable or power bank to power the dashcam when the car's ignition is off.

Parking mode activation

automatic (after turning off the ignition)

This type of Cloud dashcam can be connected to an existing wifi hotspot or network in the car. Connection with the Cloud gives you the option to see live and recorded videos remotely or to receive event notifications during parking mode. It is therefore ideal to protect your car when you're not around. Connection with the Cloud requires a SIM card with active internet connection.

Cloud trough Wifi hotspot

This type of Cloud dashcam allows you to insert the SIM card directly into the dashcam. A wifi network or hotspot is therefore not required.

Cloud trough Sim card

'Advanced Driver Assistant System'. This system can alert the driver in dangerous situations like approaching a car in high speed or when leaving the lane unnoticed. Please note that ADAS can function differently in every country and is never 100% accurate. It should therefore not be trusted upon too much while driving.

ADAS

An HDMI or AV output allows you to clone the dashcam's image directly onto a TV or other monitor like a built-in LCD screen in the car.

HDMI/AV out

A CPL filter works like Polaroid sunglasses to the dashcam's lens. It can prevent harmful or annoying reflections in the videos. Note that the CPL filter can better be removed during the night as it can block visible light.

CPL filter option

An inherent part and therefore default function on every dashcam. Loop recording is a feature on every dashcam which makes sure that the dashcam can keep recording even when the SD card is full. A dashcam with Loop recording stores the video files on the SD card in shorter fragments, usually 3 or 5 minutes. When the SD card is full, the dashcam automatically deletes the oldest file so there is space for a new file. This way you're sure that the latest trips are always stored on the SD card.

Loop recording

The G-sensor is also an inherent (and crucial) part of every dashcam. A G-sensor is a sensor in the dashcam that registers vibrations. In case you have an accident, the G-sensor will notice and the dashcam will save the current recording as 'emergency file' that cannot be erased. The sensitivity of the G-sensor can usually be adjusted in the dashcam's menu.

G-sensor

Standard on every dashcam, the microphone allows sound to be recorded in the videos. Most dashcams allow you to turn off the microphone.

Microphone

Most dashcams have a speaker. It's there to give warning messages or simply to play the audio of recorded videos. The start-up sound of a dashcam is also a good reminder it's still up and running.

Speaker

The maximum capacity of SD cards it's able to handle or the fitted eMMC memory. Some dashcams are able to read SD cards up to 512gb, but most have a maximum of 256gb or 128gb. Always use a familiar brand and preferably new SD card in your dashcam as a slow, old or broken SD card can damage or disrupt the camera.

Memory capacity

128gb

The medium on which the videos are stored. Most dashcams use ordinary Micro SD cards but some have built-in eMMC memory.

Memory type

Micro SD

The type of connector used to power the dashcam. Can be useful when you want to change to another dashcam model while keeping the same wires.

Plug

Micro USB

Tells what voltage can be used to power the dashcam. Most dashcams are suited for 12V and 24V vehicles.

Power supply

12/24V

The type and capacity of the battery or capacitor in the camera. Some dashcams have small Li-ion batteries, others use a capacitor. A capacitor tends to be more durable but has the downside that it doesn't store any energy. A dashcam with capacitor will therefore not function without being connected to a power source, although this practically also counts for Li-ion powered dashcams as these batteries are usually very small.

Battery

Super capacitor

Tells how many cameras the dashcam is fitted with. Ordinary 1CH (1 Channel) dashcams only record the front of the car while 2CH dashcams come with a rear camera. 3CH dashcams usually have an extra interior camera and 4CH dashcams can record all around the car (or usually truck).

Channels

2CH

The viewing angle of the front lens. Dashcams usually have a slightly rounded 'wide view' or 'fish eye' lens to record a bigger area around the car. As this rounding of the lens also distorts the image a little, most manufactures stay within a 130˚ to 170˚ range.

Front lens angle

140˚

Viewing angle of the rear lens(es). Rear lenses usually tend to have a smaller angle of view while interior cameras usually have a bigger one.

Rear lens angle

125˚

The image sensor in a dashcam is the biggest determinant of the video quality. Sony has a dominant position in this market and their sensors are regularly used in dashcams.

Image sensor

Sony 8.0MP

The processor or chip translates the recorded images into digitally storable video files. Together with the image sensor it's a big determinant of the quality of the videos.

Processor

Hisilicon Hi3516D

Warranty

2 years

Manual

Hard copy

What's included?

DDpai X5 Pro
DDpai X5 Pro rear camera
Adhesive mount
3-wire hardwire kit (3.3 meters)
Add-a-fuse circuits
Rear camera cable (6 meters)
Cable trimmer
Extra sticker
Manual
Show more
Show less
Reviews
Posted by: Tjerk on 6 December 2022

Very extensive dashcam with perfect image quality. Handy that the Hardwire kit is included as standard (if you want to use it). Parking mode has helped me with damage several times!
Create your own review