Dual 2CH Dashcams with rear camera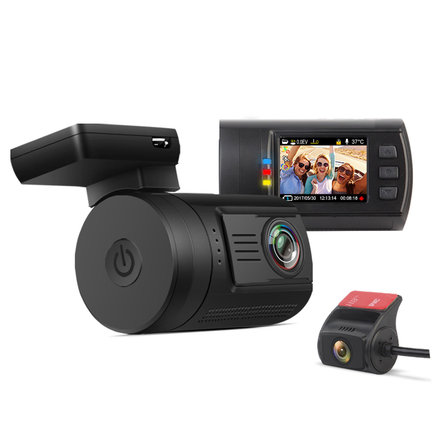 Dual '2CH' dashcams are dashcams with two cameras. Dual 2CH dashcams come with a separate rear camera for the back of the car or with a second camera in the main body to record the interior of the car. The separate rear dashcam is usually (semi) waterproof and can be placed either on the rear window or on the bumper of the car. It is connected to the front dashcam with a long (usually 5-7m) cable. Only the front dashcam has to be powered, the rear camera gets its power trough the cable. 
Dual 2CH dashcams record videos of both cameras simultaneously and save the videos separately on the SD card in the front dashcam. Some rear cameras can additionally be connected to the power of the reverse light. In that case, the image of the rear dashcam is shown in large on the front LCD screen when the car is put in reverse. This makes some Dual 2CH dashcams ideal to use as a parking assistance.
Read more
Close
€ 59,99

- 1080p + VGA
- 2.7" LCD
- Front IR LED's
- 140˚ + 90˚ lens

Compare

€ 69,-

- 1080p + VGA
- 3.0" LCD screen
- With rear camera
- 170˚ + 160˚ lens

Compare

€ 69,-

- 1080p + VGA
- For Taxi and Uber
- With interior cam
- 4.0" LCD screen

Compare

€ 79,-

- 1080p 30fps
- Wifi and 2.45 inch LCD
- 170˚ lens
- Optional rear cam

Compare

€ 89,-

- 1080p + 720p
- 3.2 inch LCD
- 170˚ + 120˚ lenses
- Including 32gb Micro SD

Compare

€ 89,-

- 1080p + VGA
- 4.0" IPS LCD
- With rear camera
- 140˚ + 140˚ lens

Compare

€ 89,-

- 1080p + 2x VGA
- For Taxi and Uber
- Interior and rear cam
- 4.0" LCD screen

Compare

€ 89,-

- 1080p + VGA
- 4.3" LCD screen
- 170˚ lens
- Clear finish

Compare

€ 89,-

- 1080p + VGA
- 4.3" LCD screen
- 170˚ lens
- Blue finish

Compare

€ 99,-

- Sony Starvis
- Wifi and GPS built-in
- Autom. parking mode
- 2CH option

Compare

€ 99,-

- 1080p + VGA
- 5.0" LCD screen
- 170˚ lens
- 64gb support

Compare

€ 99,-

- 2x 720p 30fps
- 120˚ lens
- IP68 waterproof
- 32gb support

Compare

Order before 23.45h for same day shipping
Free shipping to most EU countries (€75+)
60 days 100% money back guarantee

-8% Sale

€119,- € 109,-

- 1080p + 720p
- 2.0" touch screen
- Wifi / Aluminum body
- 64gb support

Compare

€ 119,-

- Sony IMX323 + 720p
- Wifi built-in
- 140˚ + 120˚ lenses
- 128gb support

Compare

€ 119,-

- 4K (2880p) + VGA
- Wifi and GPS built-in
- 2.4" LCD screen
- 128gb support

Compare

€ 129,-

- 4K (2880p) + 1080p
- 3.0" touch screen
- Wifi and GPS built-in
- 128gb support

Compare

-7% Sale

€139,- € 129,-

- 1080p + 1080p
- 2.35" touch screen
- Wifi / Aluminum body
- 64gb support

Compare

€ 129,-

- 1080p + 720p
- 170˚ lens
- 9.66" IPS touch screen
- Fully digital mirror

Compare

€ 129,-

- 1080p + 720p
- IR interior camera
- 2.4" LCD screen
- 128gb support

Compare

€ 139,-

- 4K (2196p) + 1080p
- 3.0" OLED touch screen
- Wifi and GPS built-in
- 128gb support

Compare

-17% Sale

€179,- € 149,-

- 1080p + 720p
- 140˚ lens
- IP68 waterproof
- 128gb support

Compare

€ 149,-

- Sony Starvis IMX291
- GPS built-in
- Autom. parking mode
- Optional CPL filter

Compare

€ 149,-

- 1080p + 720p
- With GPS receiver
- 9.66" IPS touch screen
- Fully digital mirror

Compare

€ 159,-

- 2x Sony STARVIS
- Dual-Band Wifi + GPS
- Autom. parking mode
- 2019 version

Compare